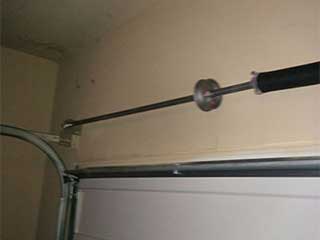 The springs aren't only in charge of supporting the weight of your garage door panels, they are also responsible for the balance of the door. They provide the tension-based force that allows you or your electric opener to open the door without exerting a lot of force. These components are therefore incredibly important, however, they're also terribly dangerous when they're about to break.
Two Types – One Purpose
If your garage door uses a torsion spring based system, then you can find the unit installed across a metal shaft right above the door. The torsion spring twists and unwinds in order to generate the force necessary to open and close the door. Often, unless the door is very heavy, only a single of these units will be installed. Extension springs work differently. They are always installed in pairs, and they work by stretching and contracting rather than utilizing torque. This makes them last for a shorter period of time, and also more likely to go flying when they break, which is why they are often secured with safety cables.
Signs of a Faulty Spring
Realizing something's wrong with these units shouldn't be difficult. They are so closely involved with the opening and closing action of your door that you're bound to notice something's wrong when they malfunction. Excessive squeaking or an unbalanced door that can't stay open are surefire signs that spring adjustment or replacement are required. Maintenance plays a vital part in keeping the system functional, as it should allow you to prevent unexpected spring breakage by catching potential problems early.
A Solution To Any Problem
Whether you are looking to get your springs replaced or adjusted, you can always count on our team at Garage Door Repair Cartersville to get the job done right quickly and safely. Call us today or arrange an appointment using our online scheduling system.
Count on us when it comes to:

Garage Door Opener Track Maintenance

Opener Sensor Repair & Replacement

Galvanized Torsion Spring Installation

Residential Garage Door Replacement