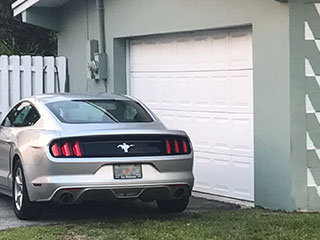 We get it – all you want is for your garage door to work when you need it. Who has time for fiddling with finicky springs, tracks, and sensors? Our experience shows that a DIY approach not only wastes your time but can put you at risk of physical harm too. Leave all of this to the professionals. Our technicians have designed a comprehensive system of tweaks and tests to gauge the health of your door and carry out minor repairs as needed.
All About Staying Safe
Most garage doors come with built-in safety measures. Usually, these are in the form of photoelectric safety sensors, designed to detect when someone or something is standing in the door's path. The sensors then trigger the auto-reverse function, which will cause the door to reverse. Like any machine, however, these parts can be subject to wear and tear, and may malfunction if not regularly maintained.
Is Your Door About To Break?
Garage doors rely on a system of springs, cables and levers that carry the weight of its panels. This system must be able to bring the door off the ground on cue, and lower it back into place when required. Understandably, this activity can place strain on individual parts over time. Our technicians can detect wear and tear early and stave off a surprise breakdown by ensuring the parts are kept in good working order.
Back On Track
Your door should slide open and close easily and quietly. This movement is made possible by rollers on the sides of the door, which travel inside the grooves, or tracks. Under certain circumstances however – for example, heavy rain or snow – these tracks can become bent or clogged with dirt. Left alone, this could cause your door to judder, and cause your opener to work harder as a result of the rollers sticking. Speak to one of our experts if you think your door door's tracks are showing signs of misalignment, before it becomes too late.
Call Us Today!
If you have any questions or concerns about the health of your overhead door, just pick up the phone to our team at Garage Door Repair Cartersville.
Give our team a call if you need help with:

Garage Door Safety Inspections

Opener Clicker Repair

Oil Tempered Torsion Springs

Track Replacement & Repair